When it comes to working in a small or medium sized business most roles carry multiple functions, you know who you are - you have the "slash" in your title;
"Sales / Marketing"
"Accountant / IT Manager"
"Office Manger / Shouldn't you know everything about everything"
And when it comes to a social networking presence it's up to us "slashes" to find time in our day to tell the world how amazing we are or share some interesting stuff so people keep coming back……….much like you reading this, welcome back.
You will check your Twitter, Facebook, LinkedIn, Google + (does anyone actually use Google +? We have one just incase you're that one) and see that other businesses seem to be posting a lot and you ask yourself the same question "when do they find the time?"
Enter buffer.com, Buffer is a free service that connects to all of your social media platforms and allows you to schedule your posts to go out whenever you choose. You write your post, select which platform it will go out on and what day/time and sit back and watch the magic happen.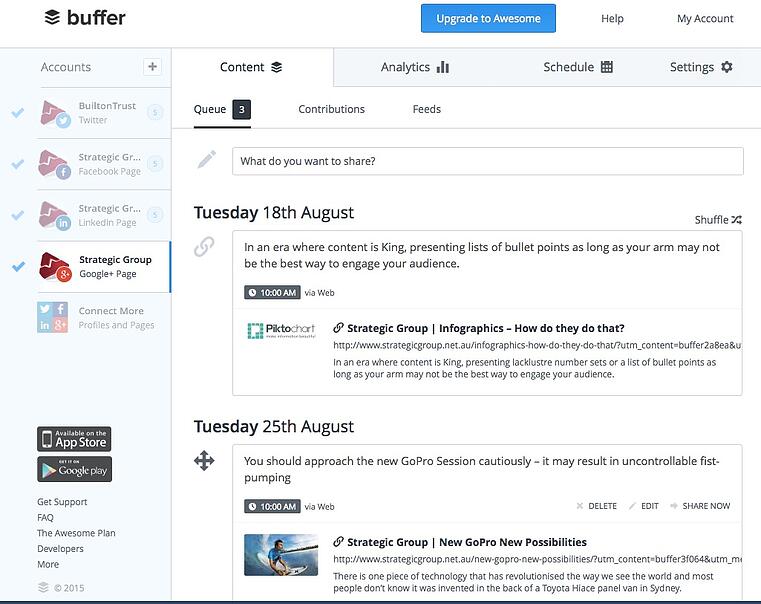 As I am a proud "slasher" (it'll catch on) I have found Buffer excellent as I will typically write my posts whenever I can find time/inspiration hits but set them all to post in Buffer as I will immediately forget to post these gems once something more important pops up.
Give Buffer a go and wear your slash proudly.