Create your own team of Avengers with Cloud Collaboration!
Do you want your staff to work together on projects with the butt-kicking teamwork of The Avengers? It's possible!
You won't even have to experiment on them in Banner's lab or recruit some demi-gods from Asgard. All you need to do is utilise Cloud based collaboration software - it's that easy!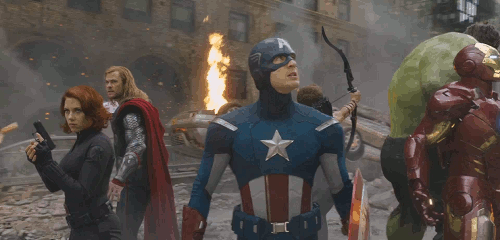 Avengers assemble! | Source: GIPHY
Anyone who's worked in an office knows that sometimes trying to find a file or keeping every document up to date is like pulling teeth - it's painful and nobody wants to do it. When staff are working on different versions of documents independently, there is no collaboration involved. Encouraging collaboration amongst your team is so important to any business as it can help to improve processes or generate new ideas.
The idea of workplace collaboration has been around for a while now, most people recognise it as a team gathered around a whiteboard or scribbling frantically on butcher paper. This process can be very time consuming, and it requires everyone to be psychically present in a meeting.
The problem lies in making collaboration an easy process, if working together on a project is an arduous task for employees, they will avoid it. The solution to this is to make collaboration an easy and enjoyable process. Use the Cloud and collaboration tools together to enable employees to work together anytime, anywhere.
Using collaborative tools in the Cloud environment gives you the ability to communicate easily with your team outside of traditional methods. A project doesn't have to come to a grinding halt just because certain employees are out of the office, applications like Skype for Business allow employees to communicate wherever they are, as long as they have an internet connection (which we hope in 2015 is a given!). This is especially handy for businesses that have multiple offices, contractors or just want their different departments to interact more.
Teamwork software can help decrease the number of phone calls and meetings needed as everyone is up to date on projects and tasks. Every time there's a new version of a document, everyone can see and comment in real time. Obviously regular meetings are important, but frequent needless meetings can drain staff and the labour hours lost add up!
Collaborative tools can also help you to manage projects and keep an eye on the workload of your employees. The goals are clearer and the timeline can be followed precisely. Not to mention the nature of these tools can encourage greater relationships between departments and foster innovative and creative ideas.
Utilising the Cloud can have many positive outcomes for a business, a more collaborative and efficient workplace is just one of many. If you want your team to resemble superheros you need to provide them with the right tools (or weapons like Thor's hammer). To learn more about moving your business to the Cloud and encouraging collaboration in your team check out: http://www.strategicgroup.net.au/private-cloud/