By now you would have heard about the new Samsung S8 phone that was announced last week. You may not have heard about a little accessory that was announced alongside it, that has the potential to change the way we use desktop computers.
The DeX Station is basically a dock that Samsung have built to turn its new S8 phone into a computer. When you plug the phone into the DeX, it switches from mobile mode to outputting a custom made Android desktop OS environment, with icons to launch all compatible apps and a taskbar at the bottom of the screen for switching between them.
So why is this all so important? Well the Galaxy S8 is the first phone that is powerful enough to potentially replace your desktop computer. Microsoft Office and Adobe Photoshop are included in the Android OS and it has the ability to run a remote desktop, meaning you could log into a platform like VAULT and access your entire office from your smartphone. A cloud platform makes using a phone as your primary device even easier, as they are not resource heavy and allow you to access all your files and applications, complementing the accessibility of a smart phone.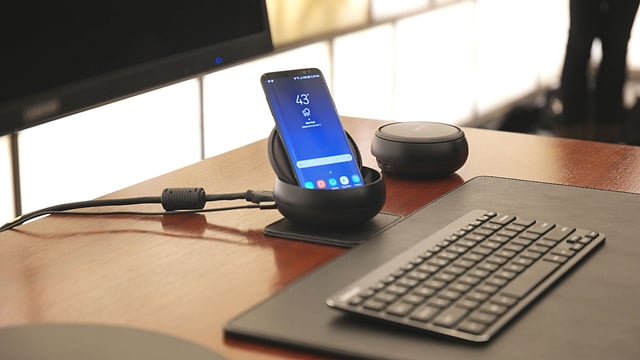 This development means we are getting closer to a time when we no longer have PCs and laptops and we just carry around our phones that double as computers. Imagine how easier it would be to go through airport security, or just travelling in general with only one device, not to mention the money businesses could save by only needing to provide a smartphone to employees.
Samsung's S8 and DeX allow the phone to seamlessly move between mobile device and computer. You'll see phone notifications (like texts) pop-up in the lower right corner of your screen, and you can make and receive calls while the phone is docked. If you need to take a call privately, you can undock the phone and continue your conversation while the S8 switches back to mobile mode in the background.
Normally with new technologies (especially smart phones) once one brand develops something, the rest follow. We expect to start seeing this feature become more and more common, and inevitably more powerful as more companies adopt it.
With sales already on the decline, this could potentially be the end of the PC and laptop as we know it, only time will tell.