There is one piece of technology that has revolutionised the way we see the world and most people don't know it was invented in the back of a Toyota Hiace panel van in Sydney.
American surfer – Nick Woodman was looking for a way to record his extreme Australian adventures and needed a more customised solution than a camcorder strapped to his arm with rubber bands. Yes folks, we are indeed referring to the birth of the GoPro.
Eight years and a few billion dollars later and GoPro has just unveiled its most exciting offering to date – a 3.8cm cube weighing less than a small packet of chips and requiring no additional housing for water applications. That's right…it's already waterproof!
In fact, you should approach the new GoPro Session cautiously – it may result in uncontrollable fist-pumping: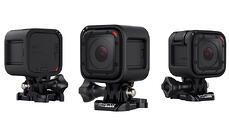 - One single button now turns the device on and immediately begins recording. Same button if pressed again stops recording and turns the camera off (saving precious battery) – no more confusion over which unlabelled button does what.
- Auto-detection technology means you can place the cube on any side and it will always film right-side up.
- A dual mic system (front and rear) captures enhanced audio during high wind and water-based activities by auto detecting (and switching) to the best option.
While the new GoPro definitely appeals to the 8 year old boy in all of us, there are also some very grown up reasons to get behind it.
With so much content in the marketplace, it can be difficult to cut through the noise. GoPros have helped us to create unexpected and authentic content that resonates with audiences. Their design helps you capture raw and unique content that might not be possible on an ordinary device. This can help to distinguish you from the rest of the pack.
This type of footage has revolutionised the way we watch sports and could be used to great success in sectors including - not-for-profit, hospitality, tourism and fitness to name a few of the obvious. However if you can think beyond the typical ways your product or services touch people lives, the GoPro could open up some very exciting possibilities for creating awareness and shaping perceptions of your business.