Just because you use Outlook every day — nay, every hour, if not every waking moment - doesn't mean you're getting as much out of it as you could.
Reducing the manual or repetitive elements of email is a great way to start.
Manage your inbox…don't let it manage you
Much has been written about the negative impacts of push notifications (eg. audio and desktop alerts) interrupting thought processes and productivity. One solution is to turn all notifications off, however there is probably good reason you've got them on in the first place - you're waiting for an important email from a client, your boss etc. In Outlook it is possible to set up notifications for VIP's only.
Improve your visibility on high priority items
One tip busy people use to minimise distractions in their inbox is creating an 'Inbox – CC' folder. This folder receives all of the emails that aren't addressed directly to you, thus focusing your inbox on your most important/relevant emails.
To set this up open Outlook and go to File > Info > Manage Rules and Alerts > New Blank Rule > 'Where my name is in the Cc box'.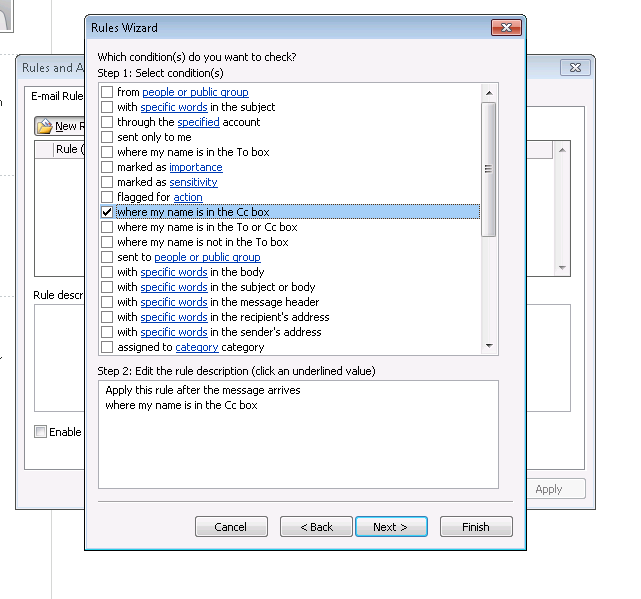 Use templates for repeated content
For emails you send regularly such as requests for information, reminders, notifications etc, save the email as a template. This reduces the time you spend preparing certain emails down to seconds, rather than minutes.
Save the email as a template by selecting File > Save As > Outlook template.
To use the template go to New Items > More Items > Use Form.
Quickly save emails as files
If you need to save an email for posterity you can drag and drop it directly onto your desktop and it will be saved in Outlook's default .msg format with the subject as the file name. From here you can quickly move the file to any other location.
Delay sending an email
Another tip busy people use to minimise disruptions - in this case return emails, is to delay sending non-urgent emails until the close of business. This technique also comes in handy if you are working late and want your email to arrive at a more appropriate hour, you want to be the first to say 'Happy Birthday' to a colleague or you want your email to arrive at a time when it is most likely to be read (an important consideration for email marketing initiatives).
If you need help using any of these Outlook tips give our Helpdesk a call on 1300 857 048.