Very early this morning (at about 2am AEDT) Samsung announced the new Galaxy S8 at their Unpacked event in New York. It is arguably the best phone Samsung have ever released, certainly the most powerful, with the largest screen and a unique design.
Screen and Display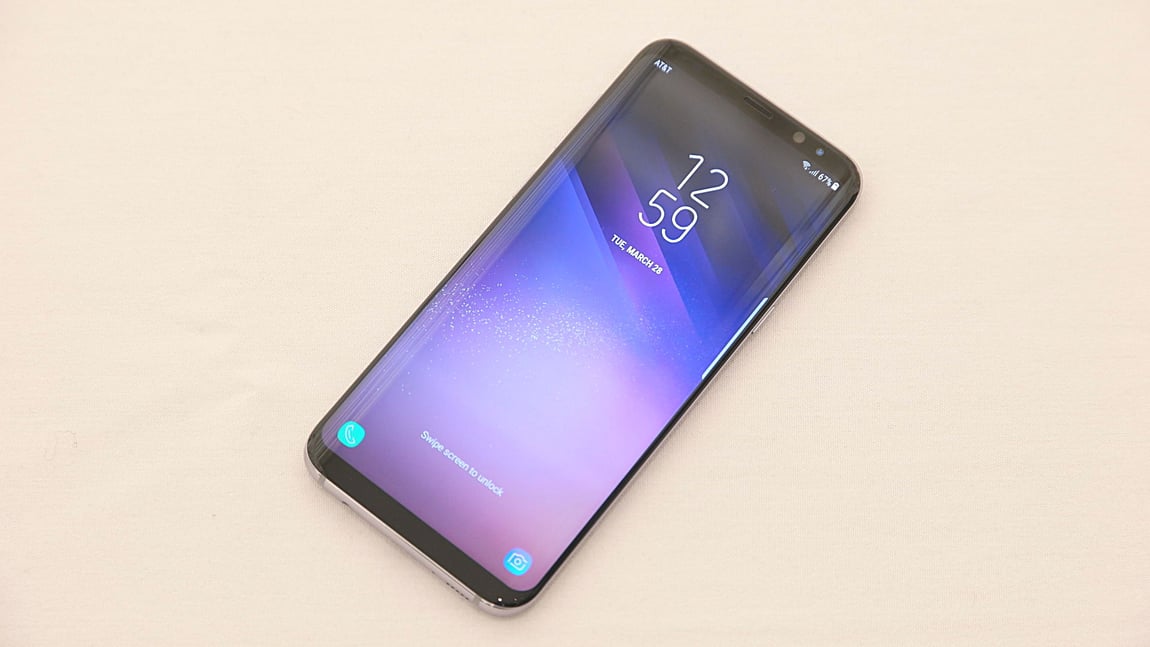 The first thing you'll notice about the S8 is its edge to edge Infinity Display. Like the previous Galaxy phones, there are 2 models; the S8 and the S8+. The S8 has a 5.8-inch display screen and the S8+ 6.2-inch, both with bigger screens than their predecessors (S7, S7 edge) but amazingly are overall smaller phones.
The bezel of the S8 is practically non-existent with an 18.5:9 aspect ratio (compared to 16:9 of the S7) and because of this the physical home button is gone. In place of the old home button is an on-screen home button that has a pressure sensitive panel and haptic feedback, similar to Apple's 3D Touch on the iPhone 7. You can still use the fingerprint reader to unlock your phone, but it has been moved around the back, next to the camera.
Both the S8 and S8+ have curved screens and there isn't a flat option this time around so it looks like this may be the design of choice moving forward for Samsung.
Bixby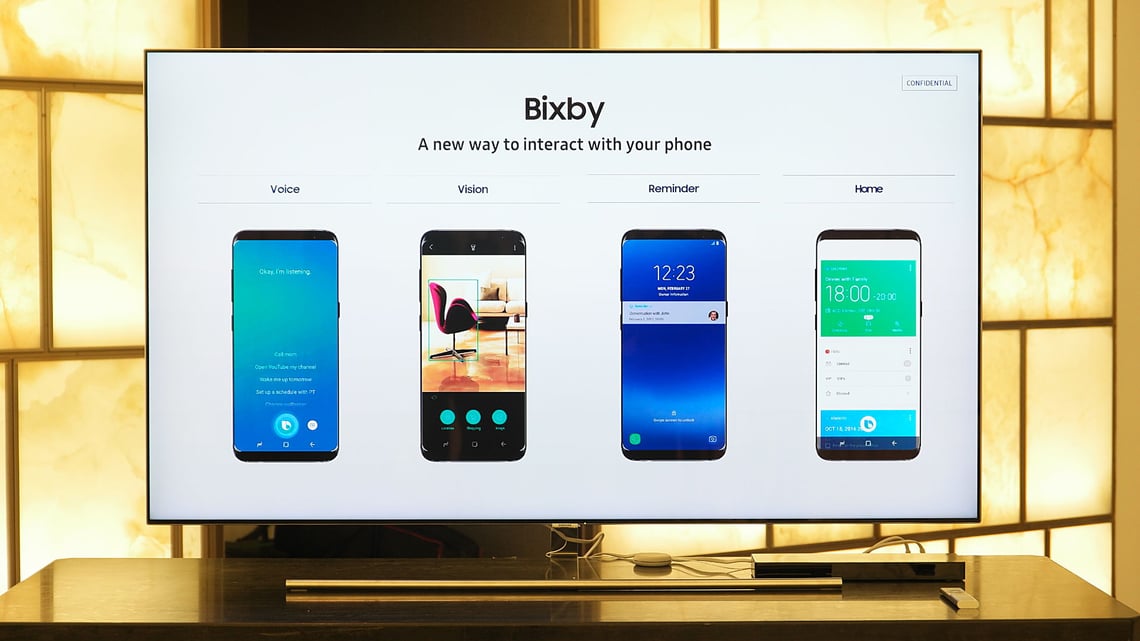 Bixby is Samsung's version of Siri and Google Assistant. It is basically a voice controlled assistant that can answer your questions and respond to user input, but Samsung have bigger plans in the works for Bixby.
Bixby is designed to understand language fuzziness, as Samsung puts it, so you can have more of a conversation with Bixby as opposed to a simple question and answer response like Siri. The idea is Bixby will be able to extrapolate from text and voice input, so if you ask it to share a video with John, it'll will ask you how you want to share it and which John you want to share it with.
Samsung have said that Bixby won't be available in Australia at the time of launch as it still needs to be localised for the Australian accent, but it shouldn't be too far off.
Hardware
Internally the Australian Galaxy S8 and S8+ will use a 10nm Samsung Exynos 8895 octa-core (yeah I have no idea what that means either) which will translate to being 30% more energy efficient than the S7 while being faster. Both models also come with 4GB of RAM as standard and 64GB of on-board storage.
Sound and Camera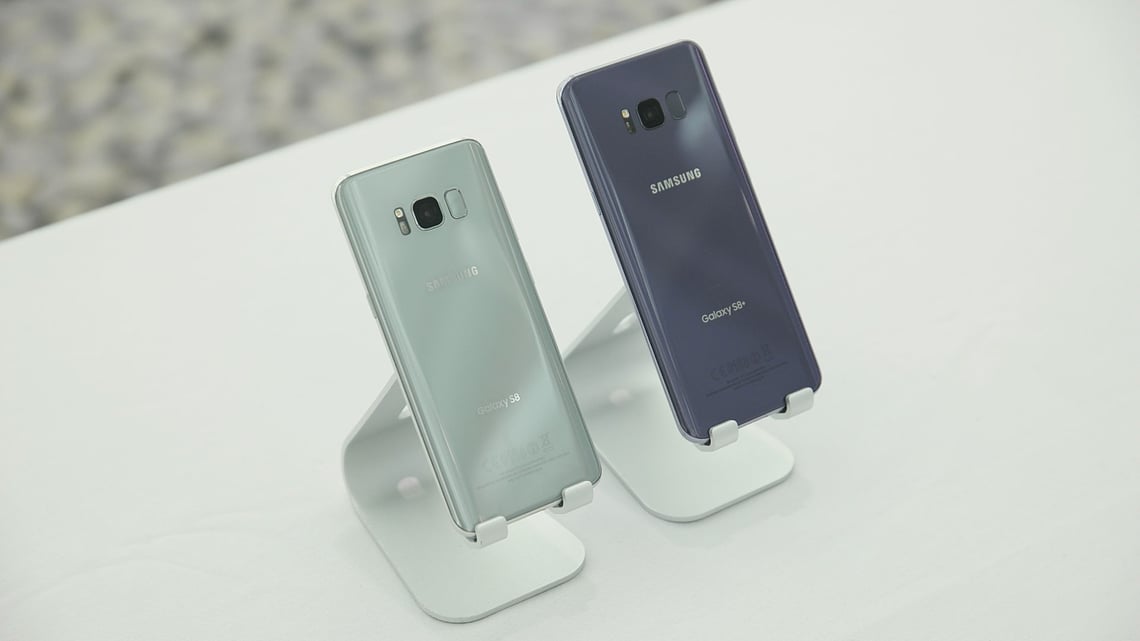 Both the Galaxy models have headphone jacks so we don't need to have that argument again!
The big news is that the S8 will have stereo speakers with the phone's earpiece doubling as a second speaker for full volume playback. In laymen's terms, it's going to be loud and awesome!
The camera on the S8 allows for iris scanning, so you can essentially unlock your phone by looking at it. The camera itself is practically the same as the S7 with a 12-megapixel dual-pixel autofocus sensor. The front facing camera however has been significantly improved with a bump to 8-megapixels and autofocus and face detection added.
The beginning of the end of the PC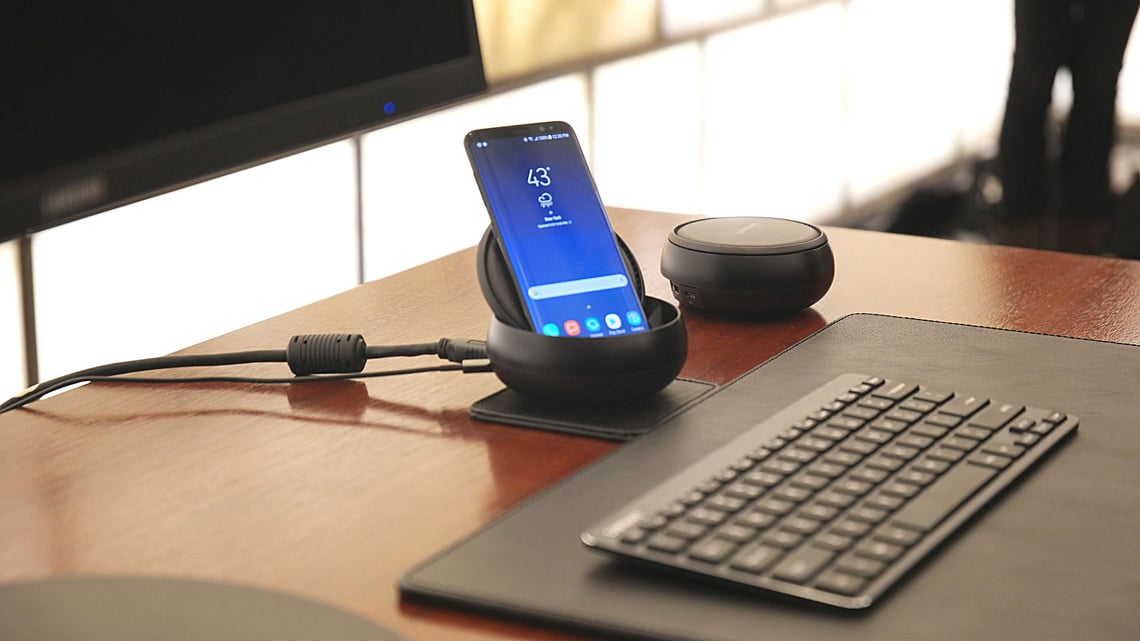 Possibly the biggest thing to come out of Samsung's S8 announcement is the ability to turn your Galaxy S8 into an Android PC.
It's a testament to how powerful the new Galaxy phone is and a look into the future of how powerful phones will become that they may replace PCs altogether.
The DeX Station as Samsung has called it, is essentially a dock for your phone which will switch the phone from mobile mode to outputting a custom-made Android desktop OS environment. While you won't be able to run super demanding tasks, the OS includes Microsoft Office and Adobe Photoshop/Lightroom support.
The really exciting thing is that the DeX and S8 supports using a remote desktop, so you login into a cloud platform like VAULT and literally have full access and functionality from your phone!
You can still make and receive calls using speakerphone while your phone is docked, and if you need to take a call privately, you can unlock the phone and continue your conversation while the S8 automatically switches back to mobile mode.
The DeX Station has a USB Type-C port for power, HDMI video and audio output and a pair of USB 2.0 ports for keyboard/mouse or mass storage, as well as a wired Ethernet port for hooking up to a hardline in a hotel room or corporate office space. You can also use any Bluetooth keyboard, mouse or other peripheral supported by Android to navigate the on-screen interface.
Pricing and release dates
HOW MUCH AND WHEN!?
In Australia, we'll initially get the Midnight Black, Orchid Grey and Maple Gold versions of both the Galaxy S8 and Galaxy S8+ at launch. Other colour variants might be launched later, but they'll likely be exclusive to one carrier or only sold outright through Samsung.
The Samsung Galaxy S8 will be priced at AU$1199 and the larger Galaxy S8+ will be AU$1349. For the phone's pricing on plans from Australia's major telcos, stay tuned until later today for those plans to be released by Telstra, Optus, Vodafone and Virgin Mobile.
In Australia, you can pre-order the S8 or S8+ through Samsung's website from March 31 until midnight on April 27, mere seconds before the Galaxy S8 actually goes on sale throughout the country on April 28.
If you do pre-order the Galaxy S8 or S8+ in Australia, you'll score yourself a few freebies. You'll get a free Gear VR headset with Samsung's first ever VR motion controller (worth $199) along with $50 of Oculus Store credit. Anyone pre-ordering their phone early, too, should get it delivered during the week of April 21, a week before the phone goes on sale in stores.
The DeX which can turn your phone into a PC will retail at AU $199 and will be available alongside the S8 release on April 28th.