When it comes to Small to Medium Sized Businesses and Video Conferencing the solutions are rather varied and very few have got a solution that suits all their needs.
If you have investigated Video Conferencing in the past, I'm sure this conversation will be familiar to you;
Business Owner (BO): We would like to setup Video Conferencing
Sales Person (SP): Great, our solution will allow you to connect to your staff using 4k video, high definition audio and enable your team to know if your free for a call
BO: Ok…….but we are a small team and I just want to hold video meetings every 2 weeks
SP: This will do that, and your team will be able to communicate with you from anywhere
BO: Ok…….can you give me an idea of costs
SP: For a investment similar to purchasing a small island in the Caribbean we can have you setup in the next 2 to 3 months
BO: I'll call you…….
Sadly that call never came.
The issue has always remained the same, we all want to use some type of Video Conferencing solution, but few of us know if we will use it regularly or what the benefits will be.
There was not way to prove to yourself that Video Conferencing was valuable to your business with out using free solutions (which was typically rubbish) or buying a high end solution with directions microphones and HD camera's that follow the speaker.
Enter Skype for Business (formally Lync), now I hear you say, "but wait, that's Skype, Skype is free, you said free was rubbish" as you close the lid on your laptop and continue to consider if buying a small island is a better option.
For those of you still reading, Skype for Business first appeared in 2010 as "Lync".
Skye for Business is a great solution to allow you to connect with many more people at once, share screens and applications and integrated with Outlook so you could set video meetings directly from your calendar, oh, and it actually worked in the real world where we don't all have massive internet connections and "4k video and high definition audio".
At Strategic Group, we have staff based in different locations around Australia, Skype for Business allowed us to develop good Video Conferencing habits by first starting with our fortnightly staff meeting with only a $200 Camera, PC and TV (the last two were already in our boardroom) our remote staff used the built in camera in their laptops and away we went.
We also use Skype for Business chat function on a daily basis to communicate quickly and efficiently with our team.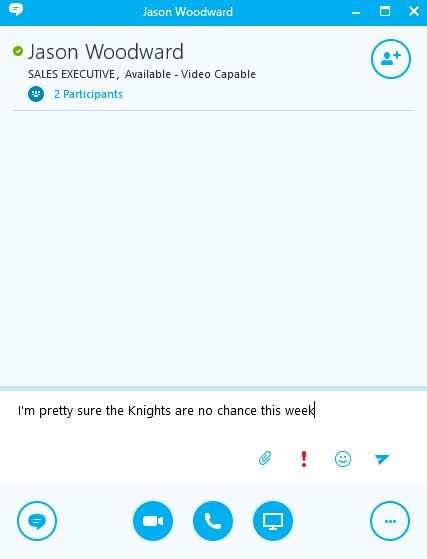 Our investment was minimal and once we got into the habit of using Skype for Business we upgraded to a $ 500 camera and that's the solution we currently run.
We shared our experience with Skype for Business with our clients, and they have since show us further uses including using the screen sharing functionality to provide software training for remote staff or the Outlook integration to invite their clients to a Video call for better engagement.
Skype for Business is a great, low cost way to enter the sometimes confusing world of Video Conferencing but will certainly give your business enough functionality to decide if it's the right fit for you.