Before I share my first impression of Windows 10, I should disclose that I'm a Mac user and yes I am reminded almost daily by our team of how funny and backward they think that is.
I also note the irony that the least technical person at Strategic Group is writing this, but that's because this is not a technical review, it's a "real" user impression. However, if you are technical and are reading this, please turn back now or risk laughing uncontrollably at my efforts and scoffing at the lack of phrases such as "whole new architecture".
The most common thing our clients (yes you) said about Windows 8 was "make sure the PC comes with Windows 7" so it's fair to say the bar is set low and, as I'm waiting for the install to complete, I'm hoping that Windows 10 does not trip over it.
The reason why there was an immediate distaste for Windows 8 was because of the removal of the Start Menu. It was our safety blanket, yanked from us in the middle of the night with no warning, leaving behind only a large ugly tiled menu that decided only what it wanted to show you.
You will be glad to hear that the Start Menu makes it's triumphant return in Windows 10, but brings some tiles with it because the boffins at Microsoft are not yet ready to admit defeat on that one. But the tiles are far less confronting and everything is once again easy to find.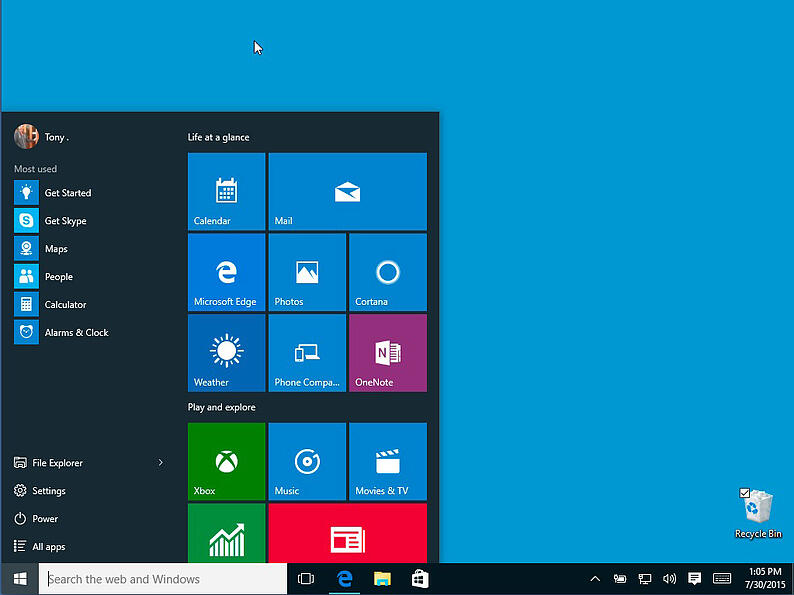 For those out there who are convinced that "the computer has it's own mind" - well now it has it's own voice too. If you find yourself sitting in front of the screen for long periods of time you now have something to speak too. Cortana (think Siri on a PC, but for legal reasons forget I wrote that) is your personal assistant.
Cortana can open your applications, tell you how your day looks and let you know your tie does not go with your shirt (well she cannot do that……yet)
Although Cortana is a great idea "she" has not yet spent enough time in Australia and, because of that, finds our accents hard to understand. So speak slowly and clearly or frustration may be the only answer you get to "when is my next meeting?"
Internet Explorer has been replaced with Microsoft Edge and Edge is designed to be minimalistic, to let the focus be on the content rather than seeing many tool bars (just like Safari……sorry couldn't help myself)
One cool feature in Edge is the ability to mark up websites, handy if you wish to share notes and content across a team.
Overall I didn't get the "uh oh, what's this?" feeling I had when I first used Windows 8 and although it won't stop me from using my Mac (sorry team) I'm far more inclined to drive back into the world of Windows once again.
I also think that far fewer of you will say "do I have to have Windows 10?"