Overnight Google announced their new Pixel smartphone and a whole host of other tech goodies. There are some really cool little devices that will be available just in time for Christmas (of course). Take a look through at everything Google announced at their latest event in San Francisco.
Pixel 2 and Pixel 2 XL
The biggest announcement out of the event was obviously Google's second iteration of their smartphone, the Pixel 2 and Pixel 2 XL. As you can guess, it is available in two sizes and looks very similar to its predecessor.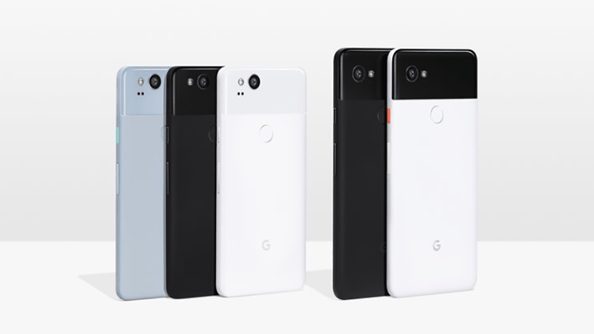 Both versions use Qualcomm Snapdragon 835 processors with 4GB RAM, have 12.2-megapixel rear cameras with autofocus and image stabilisation. The front camera on both phones is fixed focus 8-megapixel, and they both use USB-C, but don't have wireless charging.
The main difference between the two variations is in size. The Pixel 2 has a 5 inch screen and 1920 x 1080 OLED resolution, while the Pixel 2 XL has a 6 inch screen with a 2880 x 1440 OLED resolution.
One of the cool new features is the ability to 'hug your phone' (don't worry it's not a full embrace). You do this by squeezing the sides of the phone which will allow you to activate certain features.
Noticeably the new Pixel phones are without a headphone jack, but Google have also announced new wireless headphones to go with the phones.
Overall the phones look pretty cool and Google look to be maturing into a smartphone manufacturer. The Pixel 2 and 2 XL will start at $1079 and $1399 Australian respectively. Pre-orders begin on October 20, but there is no official release date as of yet.
Google Pixelbook
It came as no surprise that Google announced a new laptop at last night's event, with the launch of the Google Pixelbook.
The Pixelbook has a 12.3 inch multitouch 2560 x 1700 resolution display, weighs 1kg and is 10mm thick. It has a 360 degree hinge and you can choose between an Intel Core i5 or i7 with 16GB RAM.
One of the most impressive things about the Pixelbook is the amount of storage that comes standard. Storage starts at 128GB and goes up to 512GB, that's double the storage as the previous Chromebook and above and beyond competitors.
Australian pricing and availability have not yet been announced, but US pricing starts at $1,000.
Google Home Mini
Google announced the mini version of their Google Home, aptly named the Google Home Mini. The Home Mini is just a smaller version of the Google Home, with a smaller design and speaker. This cute little button looking device comes in three colours; coral, chalk and charcoal and is quite cheap at AUD$79.
It should be available to purchase in Australia in a few weeks, and comes free when you buy a Pixel phone.
Google Home Max
Another iteration of the Google Home is the Google Home Max. This device is essentially Google Home with a much better speaker.
This is a cool toy but as someone who has a Google Home in their house, using a Chromecast to connect to your stereo is still a much better option.
Price and availability in Australia have not yet been announced but it will retail in the US for $400 around December.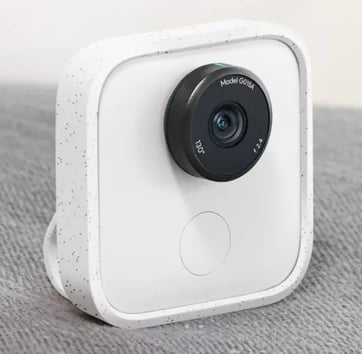 Google Clips
This was probably the most unexpected and let's face it, creepiest announcement Google made at the event, Google Clips.
This tiny camera is meant to capture the 'candid' moments of your life, which is truly terrifying, especially if you spent a lot of time watching tv in your undies.
The artificial intelligence used in this camera identifies important moments and takes photos when it feels like it. LED lights come on to let you know the device is filming.
The general consensus in our office is that this is creeeeeeepy.
If you'd like this silent lurker in your home you'll have to wait to hear from Google on an Australia price and release date.
Google Pixel Buds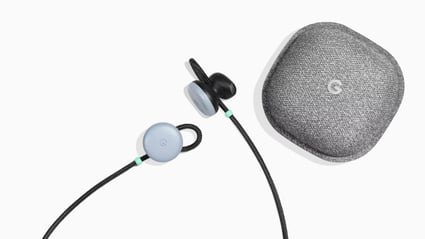 Now the Pixel phone is without a headphone jack, Google are selling their own wireless earbuds.
Unlike the Apple AirPods the Piixel Buds are connected with a wire making them less likely to get lost.
The big draw card of the Pixel Buds is the ability to use Google Translate in real-time which will listen to a language and play the translation for you.
The Pixel Buds are AU$249 and will go on sale in November.
Google Daydream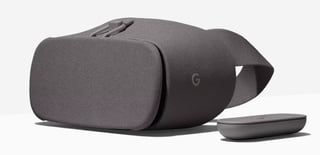 Lastly Google announced the new version of their VR headset, the Google Daydream. It's compatible with the Pixel 2, Samsung Galaxy S8 and Note 8.
The updated version has a wider field of view, slot for the controller and a removable headband. It will cost AU$149 and be released later this year.