If you have been staying up to date with the latest phone releases, you would have heard about the arms race that is the foldable phone.
The buzz around these foldable phones is huge and it seems lately that everyone has announced they are developing their own foldable device – seriously, even Energizer has announced one.
If the hype is to be believed these phones may completely change the industry, much like iPhone did back in 2007.
What is a foldable phone?
A foldable phone is one that can be used flat out as a tablet and then folded in half to convert it to smaller device, a smaller smart phone. Some of the devices announced by various companies fold inwards, while others fold outwards, effectively creating the same effect.
One of the major criticisms of the these devices is that they will be quite thick when folded over, and this may be off-putting to consumers who have become used to thinner and thinner phones.
How do foldable phones work?
These phones use technology that enables a flexible display, as the glass that is usually used in phones obviously is not very pliable, something that manufacturers have been working on for years. Samsung use a polymer in their Infinity Flex Display that they say allow it to remain flexible and tough. They claim it can keep its strength even when folded and unfolded hundreds of thousands of times.
What companies have foldable phones?
There are a good number of these devices on their way and it seems to be a bit of a race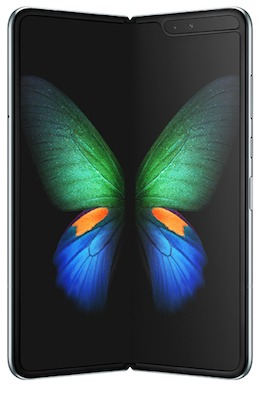 Samsung Galaxy Fold
to see who can deliver the goods first. We've kept our list to the big players and the devices that we think will actually be available in Australia.
Samsung
Samsung was the first of the big phone manufacturers to announce a foldable phone, unveiling the Samsung Galaxy Fold at the Mobile World Congress earlier this year. The Samsung fold uses a dual screen to make their fold possible, with a 4.6-inch display folded and 7.3-inch display unfolded.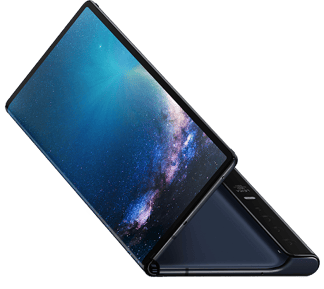 Huawei Mate X
Huawei
Huawei also announced their foldable phone at the Mobile World Congress, called the Huawei Mate X.
The Mate X has a single screen that folds outwards creating a 6.6-inch folded smartphone and an 8-inch tablet when unfolded.
Oppo
Oppo haven't really made an official announcement around their foldable phone, and we're not even sure what it's called yet but their CEO posted a preview of the device on the Chinse social media site Weibo.
Oppo
Oppo's device appears to fold outwards and hosts a camera on the side panel, they made it clear that this is just a prototype and will only enter mass production if there's clear consumer demand.
When can I buy a foldable phone?
Samsung have announced they plan to launch the Galaxy Fold on the 26th of April, this is for the US but it's safe to assume Australia will receive theirs around the same time. You can currently pre-register your interest in the device on their website.
Huawei have stated that their Mate X will be available in Australia from around the middle of 2019 and Oppo have made no promises yet. There are a couple of phones currently available or about to be launched that are exclusive to the US or China, like the Royole FlexPai and Xiaomi but there are no promises they will be available in Australia.
How much will a foldable phone cost?
Foldable phones are a brand new technology and are priced as such. While there is no official Australian price, Samsung have revealed prices will start at US$1980 (approx. AU$2800 + GST). Huawei have also not announced Australia pricing but start at €2299 (approx. AU$3700 + GST), so don't expect to pick up any of these phones on the cheap.
Are foldable phones worth the hype?
Hard to say! Foldable phones may be a gimmick that don't stick or they may revolutionise the entire smartphone industry. Until the phones are actually released to the public it's all just speculation.
As with any new technology, it will be the early adopters and tech die-hards that buy these first and depending on their success, the general public will follow.