The rise of chatbots, self-driving cars, smart assistants and creepy robots are testament to the increasing abilities of Artificial Intelligence.
As AI has the ability to process vast amounts of data at very high speeds, it actually makes sense that it will complement accounting and its vast quantities of complicated data.
Chatbots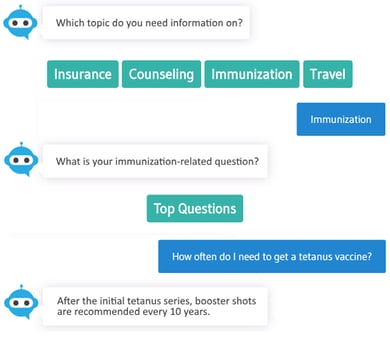 An example of an 'FAQ Chatbot' in use
Chatbots are a great way to automate customer service tasks and filter requests to different teams within the firm. Chatbots are popping up a lot in Facebook Messenger and some brands are using them to sort your queries before speaking to a human representative.
For accounting firms, chatbots are a great way to create a 'knowledge base' of sorts, where a customer can ask a frequently asked question and the chatbot can respond with the correct answer. For more information or to discuss further, the customer can request to speak to a person within the firm.
Automation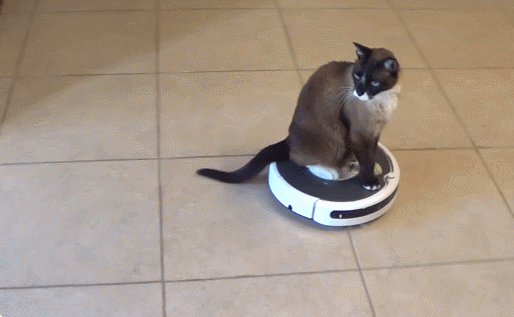 We should embrace automation the way cats have embraced Roombas
The increasing ability for a firm to automate their compliance work and day to day tasks mean they can free up their accountants to complete more advisory and value add work for clients.
While many people see automation as the death of compliance, we think automation will change the way compliance is handled with a bigger focus on more insightful forecasts, value add services and general efficiencies within the firm.
Smart Assistants
Google Home
Think Google Home, Microsoft Cortana, Amazon Alexa and Apple's Siri. These assistants are here to make our lives easier and are becoming smarter by pre-empting our needs and understanding context more and more.
These assistants aren't just great at telling jokes, they can also be used to schedule your day, manage travel plans (Virgin Australian are now using Alexa to check-in to flights), dictate notes, perform calculations and track packages.
There is the potential for AI to revolutionise the auditing side of accounting, where it can trawl through entire databases looking for red flags, avoiding the need for manual and individual review.
Of course actual human accountants are still the staple of the accounting industry, but they will be able to free themselves of repetitive tasks and focus on adding more value to their clients.