This year seems to be the year of the mobile phone hype. We've already blogged about foldable phones and how they can benefit consumers, but the other big news for 2019 is the impending launch of 5G.

What is 5G?
Put simply, 5G is the fifth generation of mobile network standards used worldwide. As with each subsequent generation, speeds and connectivity improve drastically and 5G is no different.
What will improve with 5G?
With the leap from 4G to 5G we will see improvements in three key areas.
Faster network speeds: 5G will allows users to download with speeds up to 20Gbps and the current standards suggest that the very minimum speed you should experience is 100Mbps. To put this in perspective, 100Mbps is currently the maximum speed that can be reached on the NBN.
More connections at once: More devices will be able to connect to a single network at the same time. This is important as speed improves and smartphone usage and internet enabled devices grow there will be more connections than ever before.
Lower latency: Latency means the time it takes information to get from your device to the internet and back again. Latency should reduce from around 60 milliseconds on 4G to as low as 1 millisecond on 5G.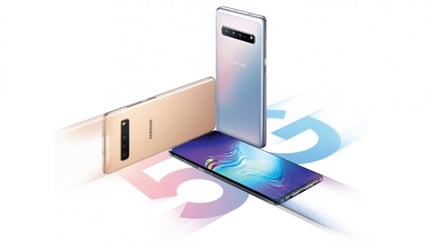 Samsung s10+ 5G
How can I get 5G?
You will need to have a 5G enable phone in order to access the 5G network, you won't be able to update your current phone from 4G to 5G. At the moment there are a few phones close to being released, with the Samsung s10+ 5G set to be released soon and LG and Oppo expected soon also.
When can I get 5G?
Pumped to get 5G now?
We expect Telstra and Optus to being making 5G plans available soon as they have previously stated that 5G would be available in the first half of this year. Remember it is a rollout, which means you have to wait until your area is 5G ready. So expect capital cities to receive it first and regional areas following.
As with any new technology, it will take a while to be adopted by the general population and become mainstream. People are still using 3G devices and we don't expect this network to be shut off until at least 2020 so there will still be a long time before 5G is the standard, but it is exciting to think about the speeds we will be able to achieve in the near future.